Description:
Edit
   The XM8 is a great all rounder Assault Rifle. It has respectable damage and rate of fire, and a nice accuracy and range, great for all Soldier levels. It is arguably the most well-balanced assault rifle in Strike Force Heroes 2.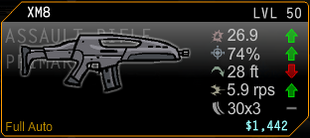 Recommendations:
Edit
Recommended to use against: Any enemy, provided that you engage them at optimal distance, i.e. Don't fight snipers at long range, or Generals/Juggernauts up close.
Recommended to use with: High damage pistols, with a medium to long range, such as the AutoMag or M1911. A melee secondary also works, to cover this weapon's relative weakness at close range.
Ad blocker interference detected!
Wikia is a free-to-use site that makes money from advertising. We have a modified experience for viewers using ad blockers

Wikia is not accessible if you've made further modifications. Remove the custom ad blocker rule(s) and the page will load as expected.