The Slot Machine is a place where you can test your luck and try to win Weapons, Equipment and Attachments.
It is much cheaper than purchasing items or equipment directly. Unless you're really unlucky.
You can unlock new camos for your characters.
If you're lucky and land on $ $ $, you can actually win quite a bit of money (1.5 times the amount you paid for the spin).
The slot machine has a much bigger chance of getting rare weapons and equipment.
The slot machine is one of the only places to get Custom weapons, which are by far the strongest you can get! Custom weapons are more common in the slot machine, but occasionally, a perfect item will show up in the shop at high levels.
Custom weapons and equipmentEdit
While you can find a refined or flawless version of any item, only the custom(yellow) weapons have these powerful modifiers attached to them. By throwing your extra money into the slot machine, you can end up with some very interesting custom weapons and equipment. The added stats, so even if you have 30 versions of the same custom weapon, they will all be completely different. One may be modified to deal extra damage to flesh, while another freezes enemies, and another sets them on fire, etc. The possibilities are endless!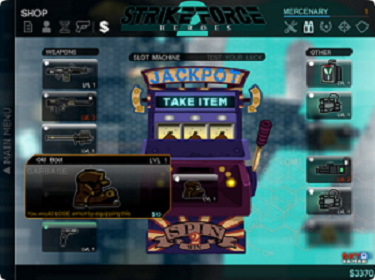 Though, remember that getting the jackpot is unlikely, there also a chance to get some very useless items.
If you're (un)lucky enough to get 3 Poops, you'll be rewarded(?) with some pretty useless items. These items aren't very useful (as shown at right) though they could be sold to get a bit of your money back. But you might be lucky enough to get a weapon that works. There are 2 known, the Sheep Cannon and the Dooty Launcher.
Ad blocker interference detected!
Wikia is a free-to-use site that makes money from advertising. We have a modified experience for viewers using ad blockers

Wikia is not accessible if you've made further modifications. Remove the custom ad blocker rule(s) and the page will load as expected.