Description
Edit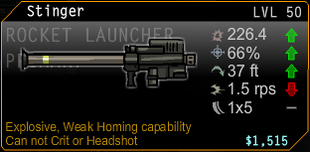 The
FIM-92 Stinger
(Or Stinger for short) is a primary weapon for the
Mercenary
.
Practical Information
Edit
Explosive, Homing Capability
Can NOT Crit or Headshot
2nd strongest rocket launcher, but has less homing range and turning than Javelin. Basically it is a combination of RPG & Javelin.
Recommendations
Edit
Recommended to use with: A fast RoF(Rate of Fire), medium power secondary. Glock 18, USP, Five Seven or the Kriss Kard should help a lot with finishing off. Also, Heartbeat Sensors, Flux Capacitor and Target Locators would be great attachments to this gun.
Recommended to use against: Low - Medium health/armor enemies. Just shoot a high health/armor enemy if you're in range and with your secondary at full ammo.
Ad blocker interference detected!
Wikia is a free-to-use site that makes money from advertising. We have a modified experience for viewers using ad blockers

Wikia is not accessible if you've made further modifications. Remove the custom ad blocker rule(s) and the page will load as expected.