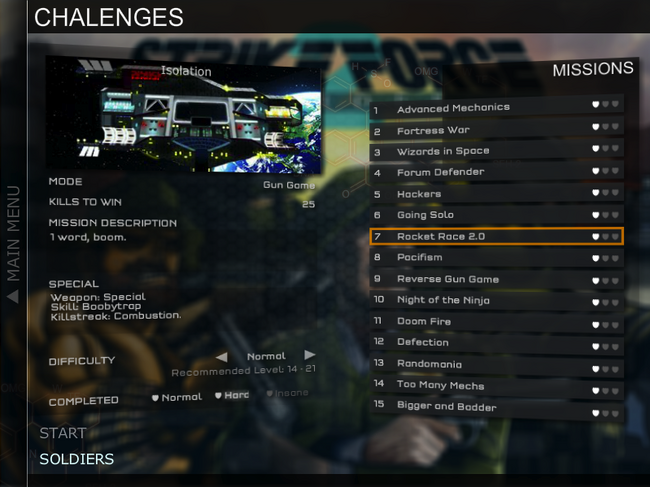 Map: Isolation
Mode: Gun Game
Kills to win: 25
Mission Description
Edit
1 word, boom.
Weapon: Special
Skill: Boobytrap
Killstreak: Combustion
You're dealing with explosives (i.e. grenade launchers, rocket launchers, Magic Wands ), don't mess up and kill yourself, it'll deduct your score.
Stay sharp, you never know if an enemy got a Stinger until you see it... or get hit with it.
Kill everyone you see, the faster you kill, the faster you get a strong rocket launcher and win. 
To Snipers , may God have pity on your low hp and armor. Try to avoid anything that blows up (for short, everything).
Sheep Cannons are really Epic to use. If you don't have one, you'll definitely want to get one after seeing it in your hands.
A Mercenary or Juggernaut with a blast plate is highly recomended since a blast plate reduces a large amount of damge from explosives and fire.
Ad blocker interference detected!
Wikia is a free-to-use site that makes money from advertising. We have a modified experience for viewers using ad blockers

Wikia is not accessible if you've made further modifications. Remove the custom ad blocker rule(s) and the page will load as expected.