Description
Edit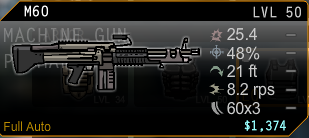 This gun is a primary weapon for the 
Mercenary
class in Strike Force Heroes 2. Looks like a modified version of the first blood weapon from SFH1
Practical Information
Edit
The stats are evenly spread for the most part, so a good all-round weapon.
Uses clips, so beware of emptying fast.
It has slow reload, like many other machine guns, so Ammo Feed skill is helpful.
Recommendations
Edit
Reommeded use against: This gun is reletively low range, so don't try to get in a dogfight with a Juggernaut--you'll lose.
Recommended Tactics: This gun has a relatively medium-high ROF, and high ammo, so when combined with the Ammo Feed skill, you can truly be a killing machine.
Ad blocker interference detected!
Wikia is a free-to-use site that makes money from advertising. We have a modified experience for viewers using ad blockers

Wikia is not accessible if you've made further modifications. Remove the custom ad blocker rule(s) and the page will load as expected.