For weapon stats go to Weapons
Description
Edit
The G36C is a submachine gun that is available for the Engineer and the Sniper. It is actually an assault rifle in real life, produced by the German company Heckler & Koch.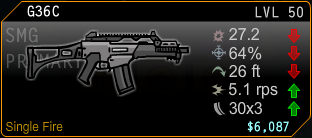 Practical Information
Edit
Recommended use with: The G36C is a sorta accurate, high damaging mid range weapon, but it's slow. So bring a good CQB Pistol or modify the G36C with a Red Dot Sight.
Recommended use against: Use the G36C to kill CQB units such as Juggernauts and Generals,try not using it against Snipers,they would probably kill you before you are about to finish it off.
---
Ad blocker interference detected!
Wikia is a free-to-use site that makes money from advertising. We have a modified experience for viewers using ad blockers

Wikia is not accessible if you've made further modifications. Remove the custom ad blocker rule(s) and the page will load as expected.